Most everyone has heard of Gordon Moore. Back in 1965, Moore stated that since 1958 all components on an integrated circuit had doubled each year and would continue for at least the next ten years. This comment proved not only accurate but just showed how fast hi-tech technology was growing. We went from CRT tubes to components to integrated circuits to ever smaller and faster devices, constantly making earlier versions redundant. As Drupa gets set to open, press announcements are coming fast and furious. This Drupa may be the "canary in the coal mine", as for the first time, press makers and other traditional machine builders really make a lot of room for the coming out of Digital.

Moore's Law is something of a metaphor for the new digital age of printing processes, because even though it looks inevitable [that big changes are coming], we need to also realize that obsolescence is going to be a key issue – much more so than with conventional technologies. As the rate of change increases, so does the devaluation of machinery. New products from companies like Fujifilm, Screen, Timsons, HP, Canon, Minolta, Xerox, Landa Labs and even Kodak, will take center stage and draw a lot of attention. Many more will be showcasing, and Drupa will be a Digital showcase. Landa has just announced a "strategic" partnership arrangement with Komori Corporation that will integrate components of Komori machines and Landa's Nanographic technology.

"Sometimes first movers aren't the ones that become long-term winners," says John Winsor, co-founder and Chief Executive Officer of Boulder, Colorado ad agency Victors & Spoils. Why? Because with so much new technology only a few will be able to navigate past boutique offerings and, more importantly, between some inevitable failures in systems and quality issues. Money may start to run dry. This period of changing the way we print has not been seen since someone mounted a zinc plate on a crude offset press. That was nearly 90 years ago.

Now, with so much momentum building up, Drupa 2012 might seem like the Futurama ride at the 1964 New York World's Fair. Possibilities are endless. New litho presentations will take a back seat to the nexgen appliances and processes that will bring back the key question of cost of ownership. Value and obsolescence (or depreciation) will be determined not from equipment leaving the factory floors of Waldorf, Tsukuba and Radebeul but by the new businesses that manufacture digital. The race for speed and low cost [machines] will inevitably leave some behind. For the industry, however, it could mean machine replacement will increase as once the door is opened and we cross that threshold, there will be constant forceful upgradability needed.





Digital employs very specific consumables and substantial amount of profitability to the maker is derived from things like ink. Take HP for instance. Ink is hugely profitable and only available at one place. Rapid upgrades will be constant for sure as many already know with CTP, software and MIS systems currently in use. Moore's Law metaphorically speaking will make what you might buy in 2012 potentially worth a pittance even 12 months ahead. There is no question that we are heading to the new devices, and it's also a given this will make some winners and losers.

Hubert Sternberg, Heidelberg Druckmaschinen's long time Managing Director, was a strong advocate for letterpress printing. Sternberg believed in what the German's called "Letterset" or relief printing with a dycril type plate. It may sound ridiculous now that even in the early 1960's this was how the head of such a major and important manufacturer saw the future - but it was true. In some ways, we may see this regaling of conventional print again although without as much resistance.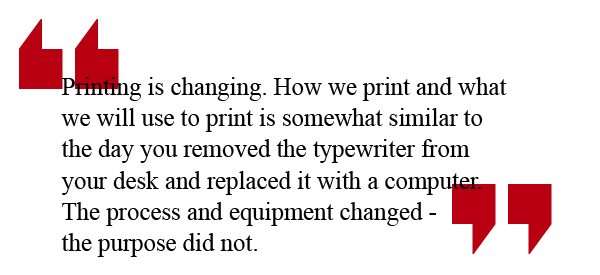 Yes, there will be new lines of litho machines. Heidelberg, Komori and KBA already announced they will showcase new platforms. New developments in ink drying will also help litho be relevant. Bindery and other finishing technologies for sectors like carton and mailing are always launched at Drupa and will, as usual, push businesses to get rid of older technology. This way of doing business has been the same since the first Drupa in 1951. Here the lines get a little blurry because Litho has also made such gains in the last 10 years. So much so it will most certainly be difficult to ignore. Manning for one on presses , especially XXL machines in the size 5 to size 7 format are simply incredible compared to even a few years ago. Komori for one, although respectful of press speeds, does not feel it's as important as press cycle times (make-ready) and that's what will be most important again for litho. Not adding a few thousand sheets per hour but reducing a few minutes on changeover.

Our industry is very unique compared to others. Machine tools still turn metal and embraced software as a way of reducing costs. Thrashers and reapers still draw wheat and grains from our fields. They have changed and modernized but just do it all faster and cheaper. Most sectors still employ the basic principles of yesteryear. Digital bares almost no similarities to litho. Printing is changing. How we print and what we will use to print is somewhat similar to the day you removed the typewriter from your desk and replaced it with a computer: the process and equipment changed - the purpose did not.

If Gordon Moore and all the others, who have added their own "laws", are right - the next Drupa 2016 will also be nothing like May 2012. Enjoy the Alt Bier and a meal at the Altstadt; maybe even take a cruise down the Rhine as those things won't change. Everything else will. Welcome to Futurama 2012.