The music man was back at the Altstadt (Old Town) of Düsseldorf again. As I walked with my family down a busy backstreet, I could just hear the faint sounds. "Hear that?" I said to my daughter. "Wait till he comes close. It's a man with a music box and he's got a real live monkey with him". Closer and louder - the sounds increased as we now caught sight of the old man pushing his music box. Where's the Monkey? We all wondered. There it is! But, to our surprise and disappointment, it turned out to be a stuffed monkey! The monkey wasn't real.

Drupa, as big as it always is, creates an excitement and hope for new technologies. This 2012 version, while being slightly smaller, delivered. But, we were expecting something revolutionary this time around. The hype and sizzle of digital transformations from the really short run to mid range productivity, was what I wanted to see. I didn't.

First stop, a trip to Landa Digital. Almost everyone did the same. We found out that a registration was needed to sit in the theatre and it was sold out so we missed it. From what others told me, the show was truly an exciting affair with dancing girls and all the glitz of a Vegas show. There are numerous Youtube videos of the show online. Benny Landa himself did the presentation.

Now I've never met Benny but would have liked to. Landa is obviously a very smart guy. In the weeks running up to Drupa, Landa inked Komori, Manroland and Heidelberg to contracts for his Nano technology. All of these manufacturers must have been pretty impressed after the blindfolds were taken off and they got a close look at what Landa was doing. The argument Landa made is very compelling. Landa lets it be known that his radical new technology of transferring nano particles to a belt then substrate – will become the benchmark of the commercial printer. Landa goes on to clearly break down where the current problems are with litho and how his nano ink is the solution of all solutions. It's even environmentally friendly, too.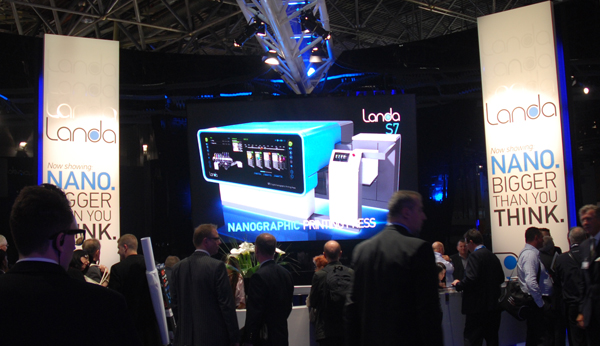 Having missed the stage show, there were plenty of Landa machines to look at. But, none were printing. That was a big disappointment. Benny Landa had himself even stated that there was still much work to be done and the machines were not "ready for primetime". I looked as close as possible and could see most of the sheetfed bits were Komori made and all had huge touch screens. But again they were static displays. Was the monkey real or was it stuffed? Really how long will it take and in what final design will this machinery be ready and offered? Other than folks already signing contracts in the panic to be first, Landa left me confused as to what was more important the nano ink sales or the hardware?

Maybe the theatre demo actually printed something, maybe this actually works but I would prefer to wait before making a mad rush to plop down a deposit until the bugs are worked out. Landa has the tools and brains to make his technology work. The early years of Indigo taught Landa a big lesson on what to do and how to not repeat mistakes. No other company I know of can lay the same claim to [that] experience. .

Hewlett Packard (HP) did a great job in showcasing the new larger sized Indigos including the 10000 (20" x 29"). We found the demonstration well thought out and HP gave the impression they had product that was ready for sale immediately. Many of you have already added HP Indigos to your stable in the smaller size and, in essence, HP is one of the reasons why the 14" x 20" litho format has been decimated. The run lengths are generally short and the quality acceptable.

Acceptable: suggesting it's not litho but close enough. Xeikon, Screen, Océ, Xerox, Kodak, Canon as well as a few others less known, brought out new faster equipment as was expected. Miyakoshi's 30 NX-8000 liquid toner press was, along with Komori's Impremia IS29 and Landa's Nano technology, concepts that could bridge the gap between toner and Litho in the 10-50,000 run range. Miyakoshi uses bits off Ryobi's sheetfed presses. Of all the digital production equipment, Miyakoshi had what looked like the most litho-like press.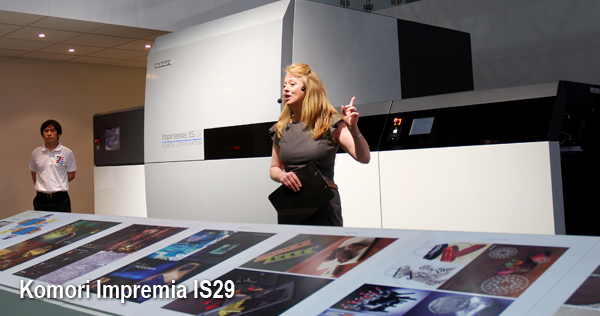 Komori, as did Heidelberg, showcased the toner Konica-Minolta on its booth. But it was buried somewhat and almost looked like a place to make copies for guests not machine demos for sale. The inkjet offerings from Komori were differentiated clearly as prototypes only and for display. The sheetfed Impremia IS 29 is a 20" x 29" sheet size, small footprint and was demonstrated in a very controlled setting. Sheets purported to have been printed during the demonstration were held up by operators walking the length of the stage like those scantily clad girls holding the round # cards at a boxing match. That was as close one got to see a print sample. The web machine a 20" version, had a similar demo. Konica Minolta showcased the same Komori press on their stand except in different livery colors and branding.

It's again important to mention that neither Landa nor the Komori-Konica-Minolta machines are ready. Komori made that quite clear. Also well under wraps is the machine and operational costs for both. I heard all sorts of speculative prices and most were in excess of $1.4 million dollars. For that kind of money, if you had any doubts before (Drupa), it's obvious thatl litho machinery is a much better choice right now. Speeds are similar to Fujifilm's Jet Press running in the 3,000 sheets/hour range. Only Landa boasts higher iph.