In late-2007, Heidelberg opened its new €45 million Wiesloch-Walldorf assembly hall, measuring 375,000 square feet, to produce large-format sheetfed presses (Speedmaster XL 145 and Speedmaster XL 162) in an effort to eat into the size 6 and 7 market share controlled by KBA and manroland. This is a second large-format-sheetfed effort for the company, because back in 1972 Heidelberg designed and showcased a size 6 Rotaspeed, but quickly scrapped the project without making any sort of impact into Planeta and Roland's domains.

The original Heidelberg Speedmaster Classic, in the 40-inch format space, proved vastly inadequate to cope with the expanding packaging sector. Sheet sizes were shrinking from VLG to 3b, which meant companies like Heidelberg were left out of the game, watching through the window. You just could not buy enough weather stripping and foam to stop the Speedmaster-Classic's 10-inch cylinders from marking.

Heidelberg's position in the packaging sector began to change in 1986 with its design launch of the 3-sided-transfer CD (Carton Diameter) press line. Now Heidelberg too had a press that could handle board. As much as the concept of a 3-sided cylinder seems avant-garde (Solna originated this design), the CD was extremely popular and a big hit for Heidelberg. Trouble- shooting print issues proved to be a challenge, however, as technicians like to work on even number transfer problems, not work out mathematical formulations. The arrival of the CD, however, buoyed Heidelberg's business and went on to be sold en-masse to both commercial and carton establishments. The company's new version 40-inch carton press, the Speedmaster CX 102, has upgrades from its flagship XL 106 but retains CD cylinders and the triple transfer.


| | |
| --- | --- |
| | Heidelberg's Speedmaster CX 102, introduced at drupa handle similar substrates up to 1 mm carton. The CX is the reincarnation of the successful "CD" and the cousin to Heidelberg's top line press the XL 106. The XL 106 is designed with the same cylinder characteristics of Komori, KBA and Roland. The "CX" continues with the double triple transfer same as "CD". |



Meanwhile, Mitsubishi expanded its portfolio to add a designated carton press, called the FC, which would not run paper, just board, and there were several variants up to 1 mm that a printer could purchase. Along with the 3b, Mitsubishi extended its range to include slightly oversized size 5 and 6 versions. Most of these machines were also destined for carton plants.

Komori was not sitting around doodling either and in 1981 launched its Lithrone series. This press incorporated many good bits of design like unit construction, double- size cylinders, robust frames and a sheet transfer thickness up to 0.8 mm. The Lithrone 40 also evolved into 44- and 50- inch versions. To better understand the impact of Komori's design, many of the features implemented by Japanese press maker back in 1981 are now being employed on the presses of competing vendors. These Komori presses are right at home hammering out carton just like the others I've mentioned.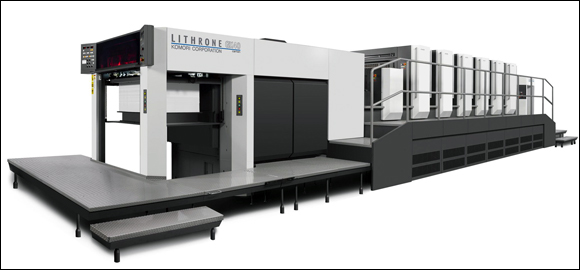 Komori Lithrone GLX - The design concept of very large impression and transfer cylinders is key and the heart of a packaging press. The In-feed design and delivery low downs that are beefed up for heavy stock, are also important attributes Planeta was the trailblazer in design of the large cylinder and skeleton transfer design, beginning in 1965. Today every manufacturer has these designs to some extent. Beginning in 1981, Komori was the first company after Planeta to build presses this way. The GLX has specific improvements that allow for all types of board to run with ease.


manroland, following its early-2012 reincarnation, remains visible in 3b to size 8 (700 and 900 series machines). manroland had owned the carton business at one time. Looking back at the Roland days its major challenge was losing out on price to Planeta. Anyone in this business will tell you its mighty difficult to claw back market share. But again, with the advances in sheetfed technology reaching a near-universal crescendo, manroland's presses are in-line with the successful designs KBA and Komori established in the early-1980s.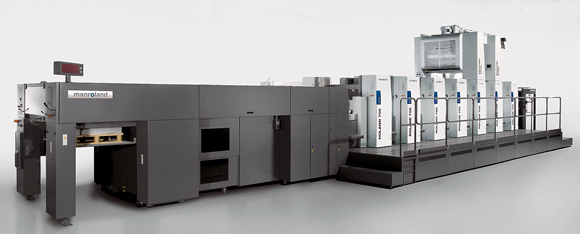 manroland 's ROLAND 700 HiPrint HS is designed for producing packaging and like Komori commercial work too. It features the same double-double impression and transfer design as the Komori , KBA and Heidelberg.


More than one kind of apple
Looking over modern press designs, I cannot see a definitive winner in today's carton-press debate when it comes to 40- inch machines (with the major press makers actually building 41-inch formats). Today, any one can provide a press ideally suited for packaging. Besides some variances in options, including some that are unique to each manufacturer, the field is more level today than at anytime in our recent past.

Throughout modern times, especially in the world of print, many decisions are made without regard for real facts. They are driven instead by visual and sensory perceptions that are seized upon and exploited by the folks making and marketing the equipment you buy.

In China and India, the shear terror of buying a perfecting press is a great example. Press doctrine, which usually starts at the supplier level, wicks its way down to the user and suddenly an opinion becomes fact. In India, for example, there are companies that would even pull out the pincer from a Speedmaster and insert a homemade gripper bar in its place, so deep was the conviction that perfecting machines were the road to ruin in straightprint applications.

India remains to this day a strong user of the older Planeta Variant presses because they are cheap and do not mark nearly as much as a 10-inch Speedmaster Classic. Developing countries like India were not able to buy CD and Lithrone presses in the used market because of lack of supply and high prices. Not until these countries started to grasp the long perfector did they change their views on perfecting. Excuses were always somewhat factually based and that is what gave relevance to the mindset. True – a perfecting press is complicated and more expensive to maintain, but not to the extent of removing it.

Just like politics and religion, no single press owns the total solution. There are enough crises and flair ups to prove that the world around us cannot find common ground by separating fact from fiction. In our world of machinery, however, talking rationally about different ideas can lead to proper benchmarking conclusions where everyone can work from fact.






Printers and suppliers alike can become so blind-sighted by stories and skewed history lessons that we sometimes fail to consider what is true. With cartonmachine buying decisions, it is much more important to understand a supplier's level of after-sale service or the real costs of ownership, before deciding on all their press features. There are certainly divisive and justifiable reasons for choosing one press over the other, but it is just wrong to assume any one manufacturer owns today's folding-carton podium.