There was something wrong here. I felt it and was rather surprised when I discussed my thoughts with the insurance rep. He didn't much care really. He told me that the integrity of the insured really didn't matter much. Insurance had to quantify the claim and close the file. But this was an exception and it should be noted, having worked many times on the insurance side, very little is left unknown when investigators get to work. They will know where the "oven" is, which is the term used by insurers in reference to the initial location of a fire. They will also be able to track the damage and spot oddities like accelerants. Forensic work like finding out about the financial wellbeing of a claimant is the norm not the exception. In the end, this printer was forced to close.

When there was still a very healthy business climate for printing machinery, we regularly bought and rebuilt countless machines. I remember one purchase vividly from in 1994, shortly after southern California had a major earthquake. Bridges collapsed, buildings were damaged, and all sorts of businesses had claims. One damaged printer had two 40-inch presses – a 6-color and a 5-color. The claim was settled before we were involved and I went to look at the machinery, which was now dismantled and sitting outside in a temporary tent.

The manufacturer's service manager was there and he tried to explain to me that the earthquake had uplifted the machine from its leveling feet and somehow twisted the frames. His evidence was one elongated hole which was part of six holes on each unit that were bolt holes for assembly. One hole? Clearly whoever had taken apart the press had a whole lot of trouble getting one bolt out! There was obviously no damage to the frames – it was all nonsense. But the printer did get new machines and we did bring both machines back to life and eventually resold them. Some common sense could have saved somebody a lot of money.


Many damaged machines came through our plant: Lightning strikes, floods, transit (by water or road), but the most damage by far was caused by fire. Delivery fires are common – caused by filthy deliveries with lots of spray powder. Dropped sheets mixed with very hot infrared or UV lamps can cause tremendous damage. Overheated motors such as ring blowers near the delivery, are another common reason. An obvious remedy is to keep machinery clean and free of debris.

Another suggestion few think about is to have plenty of fire extinguishers around and know how to use them. This last one would have helped a UK company after its 6-colour double coater and double dryer (LYYLX) was set alight via a dropped sheet and interdeck UV lamp. That press took us over 6,000 man-hours to restore (photographed below).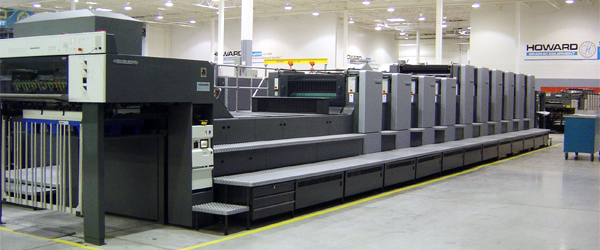 Insurance common sense
Over the years, we must have been involved in over 30 substantial rebuilding projects. Almost all were equipment that we purchased when a claim was settled. I learned to quantify costs of repairs using some basic grade-nine chemistry, calculating what temperatures were reached, how it affected the guts and understanding how cast iron has a memory. Heat-twisted cast iron will return to its original position with re-heating. Fires that occur near melted polyethylene and polypropylene (plastic skids for example), produce toxic gases and when mixed with water become an acid that will attack bare steel and cast iron.

I still see a great deal of waste within the insurance claim process when the wrong so-called experts are in a position to determine repairs. A good talker can needlessly cost both sides a lot of money.

So far I've yet to meet any insured who felt that they came out ahead after a claim. This should be a warning to everyone, that even though we have insurance, in the end, after all the pain and disruption, you will often wish you did not file a claim. Insurance is important and can save a business, but do not assume you'll finally get rid of that old machine or upgrade your whole plant simply because you have business disruption coverage and replacement coverage. Take steps to protect your investments now. Do simple things like buy more fire extinguishers, improve your housekeeping, and update your records.

If a disaster happens, take steps to reduce your claim and get solid advice from a professional. Be completely honest and upfront. Do not try and pile-on things that will be spotted as marginal by a good adjuster. One final suggestion: consider increasing your deductible. You should be trying to prevent a life changing moment not small repairs like as a bolt going through a press. Raising your deductible can lower your premiums and even afford you the budget to increase your protection if and when the big claim hits.

That's about all you can do and it's really important that you do it now before something horrible happens. Zumanjaro is nicknamed the Drop of Doom. But you know that when you buckle in. Insurance claims can have the same moniker but be even more terrifying and without warning.