The Trump message to industry is quite clear. Cut out the red tape, impose tariffs on a variety of imported products, all to make America great again. U.S. printers can buy into that because if the plan actually works the result will be more printing being produced in America. The Mexican upheaval is really a US., Japanese and Korean manufacturer's issue more than it is a Mexican one. Goods assembled or made in Mexico are for non-Mexican corporations – with a majority being American. In the 1980 movie The Formula, a film about a secret synthetic fuel that would render oil obsolete, there is a scene between two oil company executives: Arthur Clements: [proposing that Titan Oil can raise its gasoline prices] the people will accept the 12 cents now because we can blame it on the Arabs. Adam Steiffel: Ah, Arthur, you're missing the point, we are the Arabs.

The largest U.S. corporations are global. The movie showcased what we all sort of know. America Inc. is the puppeteer. Mexico (the country) is the one taking all the flack. The first commandment of free enterprise speaks of making products cheaper. Countries like Mexico are essential to maintaining a low-cost environment. Jobs are disappearing simply because of technology and both Canada and America need a low-cost producer in their own back yard, just as the rest of the world's continents have access to such countries.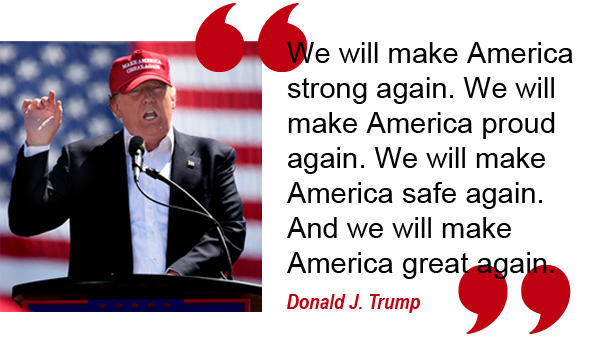 The printing industry on both sides of the 48th parallel can benefit from Trump's hacking away at red tape and forcing more factories to open up in the USA. Tariffs alone, if implemented by Congress, could invigorate rustbelt towns all over the United States. But there will be losers and Canada will have to work hard to keep itself out of Trump's crosshairs. If Trump has his way in removing the so-called tax imposed on manufactured goods made and exported from America, this could cause severe indigestion for, among others, Canadian printers. We faced difficulties like this in the late 1960s and early 1970s. After all, Canadians enjoy exemptions on exported items so the likelihood of the Republicans agreeing on similar schemes is not a stretch.


NAFTA FACTS





Today, NAFTA covers a North American Economy with a combined output of USD 17 trillion. The NAFTA region is home to 444.1 million people, 33.3 million of whom live in Canada, 304.1 million in the United States, and 106.7 million in Mexico.

In 1994, when NAFTA was enacted, there were many Canadian naysayers warning of impending doom to the Canadian Auto industry. The previous 1965 AUTOPACT agreement had proven to be a Godsend for Canada and its replacement? Well who really knew how that would play out? Quite wonderfully actually. But now NAFTA is under attack and if our government cannot negotiate favourable terms our print industry could find itself back in the 1960s – shut out of tariff-free trade with our largest trading partner. For us in Canada? We can only hope that we don't catch a cold.
Source: naftanow.org
Only a fool believes our large oil reserves serve a single purpose of providing energy and powering our vehicles. Oil is so much more important and used in everything from food to plastics. But paper is another story all together. Especially in coated cut sheet, Canada and America work somewhat differently. This can be seen by visiting any cross border print shop. Southeast Asian and Chinese paper suppliers enjoy a major slice of a Canadian printer's buy. Not as much in America, where they have always been aggressive in slapping on anti-dumping and countervailing duties. With current zero duties on Canadian printed materials (to the U.S.), Trump could alter any perceived advantages save for our weaker dollar.

A bull in a china shop, Trump, while upending the way things have been, could either draw Canada closer economically or create huge difficulties. His reckless tweets and simplistic sound bites could not be more different from his predecessor. Obama's speeches make Trump's sound like he's in a primary school debate. This does not change Trump's forward trajectory as he stumbles through his first year.

America's small business owners will, however, applaud him if he does make it easier for them to expand and run their businesses. The Environmental Protection Agency (EPA), for one, has made it extremely hard for web printers. The EPA imposes harsh rules for exhausting of airborne effluents and in some states like California the paperwork alone kills the majority of a dwindling industry.

Battles have not begun yet between the Republican majority Congress and the President. But they will. In two years, Congress has an election. A massive problem will unfold soon between the two for its possible that the GOP will (if they completely side with Trump) lose their majority and make Trump a lame duck. Congress representatives from States that do a lot of business with Canada will be hard pressed to support schemes that restrict trade between the two countries. Let the knives come out.

For the U.S. printing industry they hope Trump will not do anything really stupid to upend the economy. These folks are willing to hold their nose and pray that Trump stays on message to effect legislation that can benefit U.S. manufacturing. Canada's printing industry needs a strong voice in Washington now more than ever. Do we have it? Time will tell. The one argument President Trump can make that will hold water is trade. The rest of his ideas are another matter but let's hope it's not too late to take the car keys back.