To get a grasp of the monumental changes that were brought by the engineer design of Komori's new Lithrone platform in 1981, you must look back to 1965 and a company known as Planeta, in the former East Germany. Planeta was also rather isolated, locked behind The Iron Curtain, but the press maker had some brilliant ideas. Few in the rest of West Germany and Europe paid much attention when Planeta launched its Variant press platform, but Komori certainly did.

The Japanese press maker quickly saw the benefits of the double-size impression and transfer cylinders on the Variant. Although the Kosmo was a unitized press, the Kony was a bit of a discombobulation of upper and lower unitized units. Komori saw the light and embraced the Planeta Variant's forward-thinking unitized double-size cylinder design. Planeta is now a part of Koenig & Bauer.

Not everything Planeta was borrowed. Komori retained the upper swing arm first used on Miehles, then Rolands, and made its own version of the Mabeg feeder head and essentially improved or re-engineered every part of the Planeta design principles with a press that remains today as a watershed beacon of Komori engineering achievement. And it was fast. At 13,000 iph, the Lithrone eclipsed both Roland and Heidelberg by 3,000 iph in 1981. I could go on and on about various features but suffice to say the Lithrone made Komori what it is today. Twentysix-, 28-, 44- and 50-inch Lithrones would soon enter production.

During the early 1980s, the packaging industry soon discovered the benefits of using aqueous coatings instead of varnishes. Komori became the first to build a factory tower coater. True – Planeta had done so earlier but these were simply printing units less the inker. Komori fashioned its own three-roll coating apparatus and followed Planeta's lead by offering extended deliveries. Unless you ordered a hollow transfer Lithrone, however, running short-grain carton was not ideal. Both the solid and skeleton, or hollow cylinder, still only allowed substrates of up to .032 inches (0.8 mm).

Roland and Heidelberg (1986) already eclipsed this and of course Planeta had the widest range up to 1.4mm or over .050 inches. This is why even today Koenig & Bauer still carries the reputation as the ultimate carton press. In 2017, when every manufacturer can essentially run the same caliper of board (including Komori), Planeta's early penetration into that market continues to pay dividends for Koenig & Bauer.

Buoyed by its strong sales, especially into the U.S. and Europe, Komori pushed to acquire the Harris Graphics Corporation in 1988. In fact, Komori had made what it assumed to be a deal with the principle owner AM International, and even released a press statement confirming the acquisition. At that time, Harris web division was a leader in commercial and insert printing web systems.

When the dust settled, however, Komori was trumped at the final hour by Heidelberger Druckmaschinen. No doubt anger sidelined Komori executives, but not for long as Komori swooped in to buy the small French specialist packaging narrow- web manufacturer Chambon. In retrospect, considering the depressing state of the web-offset business today, Komori may have been done a favour.

It's In The Metal
Komori grasped another sales tool. When Japanese exports took off in the early 1970s, the West handed out the moniker of "Japanese Junk," from early cars that would rust away to machinery that would break from poor foundry methods. There were a lot of consumer products leaving Japan that had only one saving grace – price. This story is an old one and we have seen it reappear again with China's entry onto the world stage. In short, made-in- Japan in 1970 meant inferior goods at very cheap prices. It's incredible to consider how this has changed in less than 50 years.

I don't know about you, but I can go for days without thinking about cast iron. But to machine builders, it's a very important topic. Komori was well aware of the uphill battle it faced trying to export a machine that was about 80 percent cast iron. In fact, just about every heavy machinery exporter did too.

Nebiolo S.p.A. of Italy faced the same backlash. With a tarnished reputation, Nebiolo turned to Meehanite to prove to the world their cast was as good as any. So Komori did a smart thing. Komori's major castings come from a company called Kasakura Metech Co. and Kasakura became a certified Meehanite foundry in 1981, although its roots go back to 1919. Meehanite is a process to increase the quality of grey castings. It was developed back in the 1920s by the Ross Meehan Foundry in Chattanooga, Tennessee. Meehanite Corporation was formed to, among other things, license third parties to use the technology which essentially increased the Perlite and removed Ferrite from the cast, strengthening it.




Heidelberg, which owns its own foundry,
already had a century of skill making
superior castings, but Komori's supplier
was unknown outside Japan. Now, Komori
would emblazon their castings with
the famous "M" logo in bas relief to show
the world it could supply castings as
strong as anyone. Ironically, Mitsubishi
took a slightly different path when it did
the unthinkable by having a non-Japanese
company (Beiren of China), make much
of theirs. Kasakura now has a foundry in
China, too.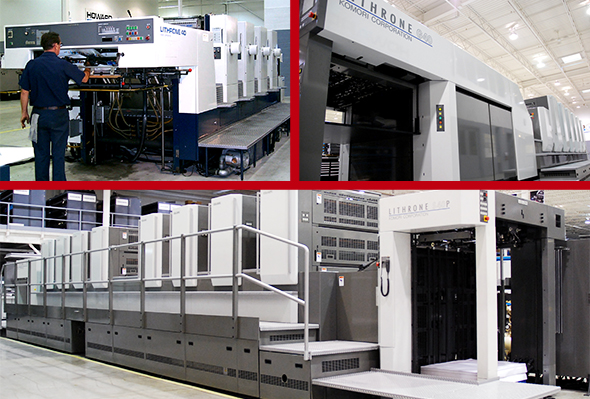 Top-left: Komori L40; Top-right: Komori GL40; Bottom: Komori LS40


No one today should question the superior engineering of Komori presses. After all the upheaval in the offset business, Komori has remained the undisputed leader in Japan and one of the world's top three press manufacturers in the world. Quite a feat for a company that always holds its cards close to the vest. Like Heidelberg, KBA and Manroland, Komori too finds the lithographic business dwindling from the highs of the 1990s as digital devices take more and more of offset's position away.

Made in Japan and Israel
Landa Digital's S10 press is already made up of Komori transport, coating and perfecting components. Komori signed an agreement with Landa to both provide traditional press components and also exclusively market its own version of the Landa S-10 as the Komori Impremia NS- 40. Since there is no way yet to determine the success or failure of this platform, the industry sits and ponders if these very expensive Landa presses will be stars or dogs. Knowing Komori, I'd put my money on the former. However at eye-watering prices even as a success others will make that determination.


| | |
| --- | --- |
| | Konica Minolta also partnered with Komori on the smaller Impremia IS29. Komori even started selling its own guillotines in 2014. I didn't really think the world needed another guillotine but... All the while Komori keeps selling new generation GL(X) 29- and 40-inch presses and perfectors to a satisfied user group of commercial printers. The crafty HUVdoped UV, which uses much less power and produces less heat, was a Komori- Iwasaki-EYE invention that for a brief few years had the market all to themselves. Now, pretty much everyone has a low-energy UV alternative to offer. |

Rarely first with new designs, Komori researches the market well. If a competitor's leap is deemed important enough, you will see it worked into a Komori press. Just look at the up and over delivery from Manroland, vacuum feeder from Roland and Heidelberg, or even the Wallscreen and Inpress concepts from Heidelberg. They all made it into the Komori GL40 a few years later. There is also a flat line across all major press makers today as everyone makes an outstanding press.

Few know the inner workings behind the Japanese mystic, even fewer care. Mitsubishi MHI's recent exiting of its sheetfed business, handing the keys to Ryobi, has not done much to eliminate a competitor. If, as many suspect, the Mitsubishi Web program may be shuttered or sold off entirely, the landscape may only alter inches not feet.

There is a source of puzzlement when benchmarking Made in Japan with the rest of the world. Certainly exporters are heavily supported by government incentives (as well as periodic tax benefits for the domestic market), and almost all Japanese branch units run lean with very low head counts. With such world-acclaimed products, some find it ironic that basic functions such as spare parts and communication vary greatly from region to region. The Germans remain leaders with greater transparency in customer relations. In short, to outsiders it seems the only thing holding back Japanese companies is in fact themselves. When Toyota was named the world's largest car company in 2016, it might have been a statement that some in the automotive industry questioned. Not the fact that Toyota was the largest and so successful, but why it took them so long.


Virtually, every manufacturing segment has a Japanese company ranked at or near the top. Komori is no exception. The new super factory/assembly hall opened in 2003 in Tsukuba, Japan, was years in the planning and built with the next technology leap in mind.

KANDO, the new catchword meaning, as Komori interprets: "Beyond Expectations... is an expression of who Komori wants to be and why it's important to you." Every press manufacturer has a few product embarrassments in their closets. Some more than others. No one is exempt. In Komori's case they have been rather fortunate in successfully dodging major blunders over its 94 years. Not only do they have a dedicated following but their management team has taken great pains to run a conservative, profitable world-class company.

The year 2018 marks Komori's 95th year in business and a very good reason to celebrate a special company that from 1923 to now has been in the offset business almost exclusively. You may not see Komori race out in front of the pack in a marathon, but you will sure see them at the finish line.