The year - 2018. Two guys are sitting at a bar in South Korea's Ulsan Industrial District - the world's largest shipyard. The South Korean turns to the German and asks "So, how did your company get into the propeller business?"

The German pauses for a moment, and then tells a fascinating story. "We actually were builders of printing machines for over 100 years. Back in 2013, our management called us to a meeting and announced that we had just purchased a smaller company that designs and builds ship propellers – just like the ones I'm installing here in Ulsan. The printing business was feeling the effects of downsizing and it rippled all the way to our company too with short work hours and a great deal of uncertainty about the future. We still build printing machines – just not as many as before. The printing machine part is now just a segment of what we do. Print has settled down now as a lot of consolidation and attrition reduced the size of the industry. Our MD was right on when he said we had the resources and skills to branch out and I'm really glad he did".

After the drink, the South Korean left and, on his way home, pulled out his smart phone, googled the German company and read the complete bio. He didn't even have to print it out.
1947, almost two years since the end of WW II - changes were taking place in the world of printing machines. The Electric Boat Company (E.B. Co.), of Groton, Connecticut, had just purchased the rights to a little known printing press called the Willard. It was a 34" single color designed by the father and son team of William and Harold Gegenheimer. Some may recognize the name Gegenheimer. In 1927, William is credited with inventing the world's first press washer.. This small New York entity, incorporated back in 1918, took the town's name as its own and went on to become BALDWIN.

E.B. Co. traces its roots back to 1899 and was the first to manufacture electric motors for ships and submarines. During WW II, E.B. Co. also built the Subchaser. This ship was used extensively against German U-Boats. The Electric Boat Company went on to build the world's first nuclear powered submarine – the Nautilus, and after purchasing Canada's Canadair, is today alive and well operating as a business unit of General Dynamics.

As the war came to a close, E.B. Co.was looking to diversify. Troops were coming home and the Baby boom was on the horizon. What about building a printing machine - seems like a solid industry to get into? The Gegenheimers had done very little with their Willard since they designed it in 1935 and Willard was ripe for the picking.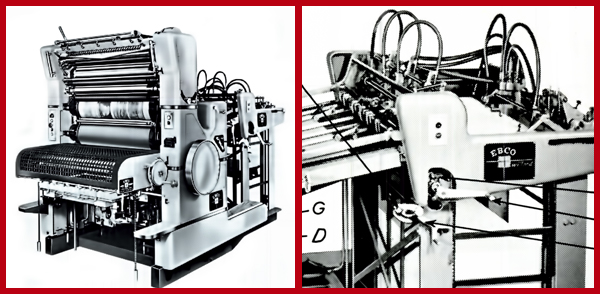 In 1947, E.B. Co. acquired the rights to build the Willard, a 34" single color press, from William and Harold Gegenheimer, as a part of their Post-War diversification plan.



The story of E.B. Co. and the Willard only lasted a few years when in 1952, E.B. Co. sold it off to the Miller Printing Machinery Co. of Pittsburgh. Success in volume and massive orders never came and this "Print Thing" was somewhat of a distraction to E.B. Co., besides a new menace in the Soviet Union appeared on the radar - the cold war was starting to heat up. Military manufacturers might be partial to threats of war to boost the bottom line, especially when governments – not Printers - are the accounts receivable.

Build It And They Will Come
Anyone who has ever visited a printing press production site will certainly appreciate the sheer magnificence and sophistication. Komori, Heidelberg and KBA make up the three largest press builders and what facilities they have! The tsunami that is the world-wide-web is sweeping over traditional print as new technologies upset a traditional business model. Print, for the first time since Gutenberg, is no longer a reflection of industry and commerce. At best, one can say print is an allied business, not an indispensable one.

Now is the time top level management of the Big 3 need to think really hard about what they have and what else they can do with their firepower. Any one of these builders could either buy into a contradistinctive technology or develop their own. Surprising as it seems, no real Eureka announcements have been made.

Currently, several [builders] have just teamed up with other companies that are already entrenched in newer print technology (mainly digital), and this tends to suggest a sort of staid future outlook - one that refuses to look beyond symbiotic relationships. Why would building something else be so difficult? Heidelberg, Komori and KBA all have massive manufacturing capabilities that could make anything they wanted. Are these folks all content to sell photocopiers made by someone else? The Big 3 have done little poking out their Graphic Arts window except to gobble up various ancillary firms that also supply to a receding Print industry.

Print machine building involves technology, R & D, casting, machining and most importantly, fitting. All of these attributes lend themselves to the highest levels of engineering. Skilled people that can assemble parts at close tolerances are not freely available. This is why countries like Germany and Japan dominate the world in manufacturing highly specialized equipment that must work properly. Other countries, especially Asia, often try and duplicate Japanese and German designs. Some find limited success, but when it comes to design-to-build, they suffer dearly.

There is change coming in this situation because the Big 3 can, in certain instances, export know-how to lower cost countries. The Japanese Press likes to use the expression "Not Made in Japan" but "Made by Japan". This is the reaction to the fact that Japan Inc. is spreading its wings towards Asian countries as a source of lower costs. Germany, too, is doing the same. Heidelberg is plowing resources into China at the expense of Heidelberg's own German workforce.

The recent announcement by Komori of the PEPIO offset gravure line (to produce both rigid and flexible touch panels for incorporation into other non-graphic arts machines) hints at futuristic thinking. This has been expected from the print machine builders for some time and it is a good sign. Although this technology will go where the rest of the machinery (using it) will be built, it's no surprise Komori will showcase it first in Taiwan.


| | |
| --- | --- |
| | Komori's new PEPIO F20 is a flatbed gravure offset press designed for the manufacture of touch panels, a market that is forecast to grow in the future. The entry into the printed electronics marketplace reinforces Komori's plan to expand into new markets. The new line also offers a roll-to-roll version, Pepio R20 for printing on film. |


Back To The Future
It's all been done before. In our world of the Graphic Arts, there are many such examples. Wohlenberg was a machine tool builder making the famous VDF lathe (Heidenreich & Harbeck), when in 1949, Krause- Biagosch came knocking on their door. Baker-Perkins was prodigious in the baking machinery industry even before they set out making web presses. Color Metal AG allegedly produced the multi colored ball point pen before building Perles, Juwels and Champions.

KBA manufactured the Multimat centerless grinding machines until selling it off in 1994. Japan's giant Sumitomo Corp. built (under license) Miller presses. Werner Rietschle provided patterns and casting to Müller-Martini. Albert Frankenthal also built Miller Johannisberg TP-36 machines. Fritz Werner, the German government owned armament company, purchased Miller from Western Gear. Heinz Binder (MBO) originally made parts for the aerospace industry. The massive combine, Rockwell International, took control of Miehle, Goss, Baker-Perkins, Hantscho, and Creusot-Loire before extricating themselves - not before purchasing Germany's Teldix, the military avionics firm that used to supply Heidelberg electronic control equipment.


| | |
| --- | --- |
| | The Baker Perkins G16 web press supplied by HGE to a printer in Venezuela. |

During both Great Wars, virtually all major Graphic Arts machinery builders built some sort of machinery for the war effort because they were obliged to. This was a rather easy transition for Defense Departments because of the interleaving disciplines involved in precise machine construction.