Think Like An Entrepreneur
If there ever was a time to look at new opportunities outside print, this is it. All 3 don't have the luxury of Mitsubishi, who is one of the world's largest corporations and immersed in a mind-boggling array of industries. But, again, learning how and when is the problem. The solution sometime comes from smaller players who can identify a niche.

Peter Marsh, writer for the Financial Times, wrote recently about Severn Glocon, a medium size specialist manufacturer of "safety critical" valves for the oil and gas industry. Headed by a self-made entrepreneur named Maurice Critchley, Severn is a successful UK company building things that are needed today. Does anyone doubt the likes of Heidelberg, Komori or KBA could manufacture valves? I don't. Oil & gas, mining, construction, alternative energy, transportation and, of course, print are all viable and have continual promise for the future.

RWE AG, Rheinisch-Westfälisches Elektrizitätswerk Aktiengesellschaft, is one of Europe's largest oil, power and gas companies. Coincidentally, RWE was the former owner of Heidelberg (1940-2004). One would suggest Heidelberg does not have far to go in learning the oil and gas delivery system and what products are needed and could be profitable? Piller Group GmbH, long a provider of the Heidelberg's Drystar IR dryer, was part of RWE until recently when it was acquired by Langley Holdings. Langley Holdings? Yes, the new owner of manroland sheetfed. Companies like Piller are great examples of divergent industry players.

For that matter, the giant MAN AG had long owned manroland. MAN AG remains very profitable in a variety of industries, from trucks, diesel engines to turbines. For manroland, under that huge umbrella, maybe the time was not right and the vision of print's future not as clear as today. But, certainly MAN AG held the chance to enter a new segment if they were connected and were not strapped into disparate union issues and other roadblocks of change.

The argument against being an outlier is control. Right now, all 3 own and control their IP (Intellectual Property). They have factories and the supply chain between builder and user. All the benefits of such a structure create a force field against change. Punching through this internal resistance is hard for some and can be evidenced by recent analogous alliances. Just as a husband refuses to stop and ask directions as his wife berates his being lost - so do many companies not conceptualize diversity while there is still time.

The idea of being a so-called "marketing business" suggests that distribution and the ability to sell anything, including consumables to printers, is the answer. Possibly, but, it definitely will not keep their factories busy. Besides owning the IP, building needful things is what made all 3 into giants in the first place.

One has to just look at a company like Kodak. Long domineering in film and pre-press materials that are now obsolete, Kodak is struggling to right itself before it's too late. Had Kodak invested sooner and bailed out of legacy products quicker, the story might be different. In contrast, one needs only compare Kodak to 3M and DuPont to see how they view the future. Ironically, 3M and DuPont were major suppliers to print. Both had or have graphic arts divisions, remain innovation focused and were not afraid to acknowledge film's demise.

General Electric is a good example of a multi disciplined cpmpany. It's not just appliances, finance and plastics anymore. Try aircraft engines and medical technologies. GE is in businesses that are highly specialized – just like Print – and extremely difficult to enter - requiring masive amounts of investment. Can anyone imagine what General Electric would look like if they stuck to incandescent light bulbs? Does anyone doubt the Big 3 have the smarts to build jet engines, locomotives or electrophotography?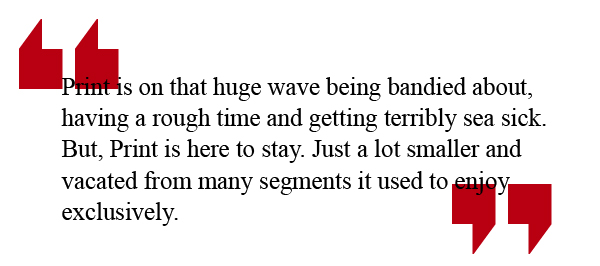 Perhaps, the reader may assume companies [making printing equipment] have no future? That would be incorrect. Print is on that huge wave being bandied about, having a rough time and getting terribly sea sick. But, Print is here to stay. Just a lot smaller and vacated from many segments it used to enjoy exclusively. Technology, in the way machines are made and what they can do, will still be needed as we continue the journey from Litho to Digital.

In a 1940's American Printer magazine, several advertisements appeared by the company Royal Electrotype. One such double spread, entitled "Capable of Great Power but Unused", railed against the influx of the frightening new threat of cheap litho duplicators (replacing letterpress). Royal Electrotype's business WAS letterpress. They lost and, as clear as today, we see that technological changes cannot be argued into submission.

Recently, IBIS World reported U.S. Print revenue has declined 6.2% in the five years leading to 2012 with a 2% yearly potential decrease going forward leveling out in 2017. If true, there will be no possible way press builders can spit out machines like Henry Ford's model T assembly line. There will need to be reductions and that's why when the vast majority of know-how and tools are still in place – today is the right time for some good old fashioned entrepreneurial spirit to take hold. I love the printing industry. It is my life since I was a child. But, I also know I cannot change destiny.

Fast forward 10 years from now - there may be someone in a completely different industry writing about one of the Big 3 and how they started off making printing machines. Now, maybe, they make solar generators or centrifuges or submarines . . . .