The world of Print has been enriched by many folks from all walks of life who took many different roads to arrive at an industry with seemingly no beginning or end.

On a busy mid-week day, 36 years ago, a city inspector walked into Frank Herrington's print shop. "Can you tell me where your designated smoking area is?" asked the inspector. "Wherever I'm standing", uttered Frank. This story was often repeated and always with a chuckle. It was a different time. Frank, a lifelong smoker, seemed to have two butts going at the same time. It was never uncommon to see an ashtray with a forgotten cigarette burned to the end with a length of ash.

I first met Frank around 1977. He was then a partner in a trade shop but already had a lifetime's worth of Print experience. Born in Hastings, Ontario, to family with a lot of siblings, Frank had a rough early childhood and found himself and his younger brother Murray, in an orphanage.

Frank had no family roots in the printing industry, and it was a chance opportunity that Frank got a job at Toronto's Parr's Print & Litho in the mid 1960's. Starting with a broom, Frank did all sorts of odd jobs until one day a pressman called in sick and Frank had the chance to run a varnish job on a Consolidated Jewel. The Jewel was a hefty 30" single color offset press made by ColorMetal in Zurich, Switzerland, but rebranded – as was common in those days - from its Swiss name Juwel to an Americanisation Jewel.

Frank was hooked, especially with offset as he had no interest in letterpress. Like many of his generation, trade schools carried printing courses and taught various disciplines such as typesetting, page assembly, platen press operation etc. But with Frank, the learning the California job case and composing with type was dumb and tedious when offset offered a better future in printing.

Canadian Connections
The ATF Chief 20 was a popular smaller press at the time, and soon Frank was running one of these 14" x 20" single colors, too. Frank would run split plates for the record jacket business. This was difficult work - making ready two plates on one cylinder. Next, he got the chance to run a two-color Harris LUP. This was a 49" press and the big leagues. Over his entire life, Frank preached about the simple intelligent concepts of the Harris press.

Frank also had a short stint working in St Paul, Minnesota, with Ternes Pin Register. Norm Ternes was instrumental in developing a simple method of installing register pins in plate clamps and also made plate register punches. On Frank's return to Toronto and along with two partners, Frank began manufacturing plate punches and installing systems on all sorts of presses. It's important to know that even in the early 1970's few offset presses had any kind of pin register.

I once saw him completely re-strip a four colour cover and print the job on a very old Solna 124 single color. It was quite amazing to see him manipulate the film, cut the masking sheets, burn the plates, then make numerous adjustments to the press just to get the job out and prove to our customer the press would print.

On one occasion, we had a customer in our shop and Frank was print testing with some plates the customer had brought. The Harris LXG-FR had Micro flow dampening. What a chore it was to set the dampener as it was driven by two sets of V-belts. I leaned down to look at the plate docket the customer had brought. Frank, without missing a beat, leaned over and said if I ever pulled out that screen plate he'd kick me into the middle of next week! Frank knew that trying to run a full screen in such conditions would be a disaster.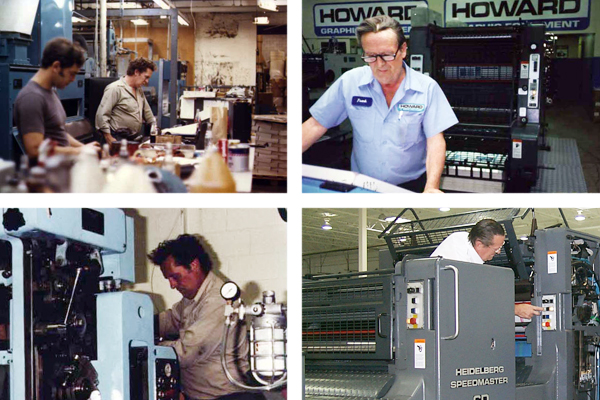 Frank and his can do attitude took on any challenges with a no-nonsense approach to problem solving. Top left - Frank working on a web press at Woodstock. Top right - Frank print testing a Heidelberg. Bottom left - Frank working out problem on a press. Bottom right - Frank trouble-shooting a Heidelberg CD 102.



On yet another occasion, we had sold a printer a Heidelberg KOR single color offset press. A few months later, that customer had dropped a dampener form into the press and smashed it. Resulting inspections by the Heidelberg agent indicated the press was scrap so we were able to take it back for parts. After months of this, the press languishing in our shop. Frank strolled in one day. "What's up with the press?" he said. I told him the story, mentioned that I was told the plate cylinder was bent and it was toast. "But did you check it yourself?" he said. I had not. So, we did it together. Much to my surprise - the plate cylinder was not bent and we quickly went through it and sold it on to another shop. This lesson was one of the most important Frank would pass on to me.



Our long association proved to be much more than fixing presses and learning common sense. Frank would always challenge you. This trait seems almost extinct today. Over the last 40 years, we had many a good mechanic work for us. Some were quite brilliant, others less so. Frank was unique in his ability to speak to owners with confidence while at the same time be a mentor to even the lowest skilled employee. From all walks of life, there are folks even today that can share the same sentiments about Frank and how he was the best friend any of them could possibly have.

Frank's genius was in his confidence. He never let a piece of equipment intimidate him. No matter the complexity or difficulty. Especially with an offset press, Frank's common sense fundamentals allowed him to almost always disregard the operation manual and use inherent basics to set grippers, adjust bearer pressures or make a feeder run difficult stocks.



Photo:
Frank Herrington - taken circa 2000


To Russia With Love . . .
For Frank, this was his first visit anywhere out of North America. Over the next 25 years, I would make seven or eight trips to Russia, but this 1980 visit, in the midst of the Cold War was special. We traveled aboard an aging Aeroflot Ilyushin Il-62 where the in-flight refreshments consisted of the handing out of mickeys and chocolates wrapped in tin foil. So, here we were in Moscow during two weeks of September 1980. Our goal was to study various printing related equipment manufactured by the Soviet Union and see if we could purchase any of it.

Frank and I had become close friends. He taught me a great deal and I needed him to help me access the viability of the anticipated equipment we would see. We arrived at the scary monolithic Hotel Ukraina, near Red Square - a very large, haunting and dark place we nicknamed Dracula's castle. The Ukraina was a huge place built in a typical Soviet Style in 1953. This was also a foreigner's Hotel and Russians themselves could not enter without a pass. The room had a black and white TV and a radio that was hard wired and couldn't be turned off. Only the volume worked – there was only one station too. I recall it was made of bakelite and had the shape of the Moscow University main tower. The radio would chime an eerie tune to signify the top of the hour.



Off we went the next day to the Red Army Printing plant. There we were to see the supreme example of the Soviet industrial complex in the POL-54 offset press. This press, a single color about 74 cm (29") was running with two operators (one sitting on a stool at the delivery). To make matters worse, the press wasn't even running offset but rather letterset (dry offset). Frank had a quick look, smiled and whispered "if that's all they have, we're in for a rough two weeks".

Representatives from Techmaschexport (Soviet exporting agency) asked our opinions, and I nudged Frank to go take a better look. He's under the feedboard checking the grippers while all of a sudden the operator hits the run button. This caught Frank's finger in the press and as blood dripped from his hand, off he went with a nurse to the infirmary. Shortly after, with a plaster the size of an ice-cream cone, in strolled Frank. We never saw the POL-54 again and, apparently, no one else did either.
Top - Frank with the POL-54 offset press

Bottom - Brochure on the Volga and POL-54 offset presses