Our days off proved amusing and we had a lot of them. Each place we visited Frank shook his head. In order to buy something at a store you needed to find what you wanted, get a chit, go to teller to pay, then back with receipt to the first guy. The 1980, Olympics had been held only a few months earlier, so we wondered over the main outdoor stadium where to our glee we found a store that sold potato chips. Nearby was what we would call a fast food restaurant. We nicknamed it the "Bun & Run". They were serving some kind of dish with a flatbread and a white creamy sauce poured over it. Looks good we thought. Pulling out a few Rubles, Frank bought a couple only to find out the sauce was some kind of butter milk - tasted awful, smelled even worse. The food in the Ukraine was remarkably better than Russia.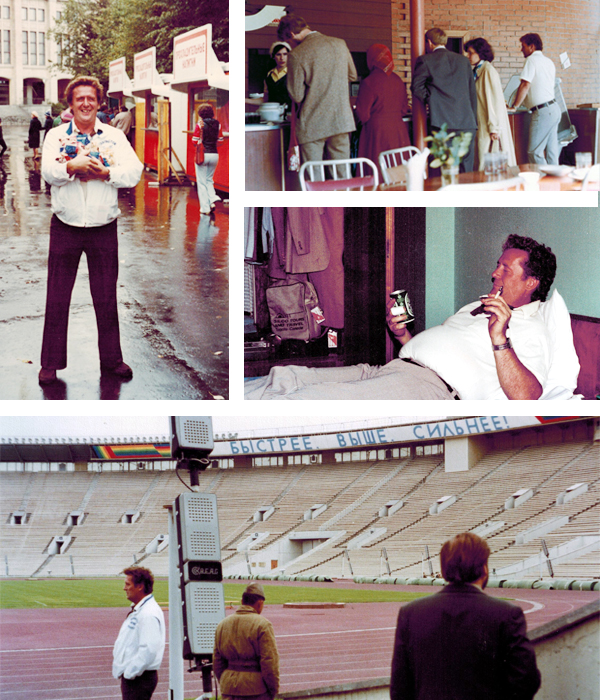 Top left - Sheer excitement from discovering potato chips. Top right - The infamous "Bun & Run". Middle - Frank nursing his sore finger. Bottom - Frank at the Olympic Stadium

We walked each day to Red Square and watched the locals in the GUM department store. We visited a science and technology museum and spent time at the INTOURIST Hotel bar because as foreigners we could get in. But, mostly we found ourselves in the main dining area of the Ukraina each night, getting a laugh when we spotted new arrivals trying to figure out that the only drinks were Georgian sweet "Champagne" and Vodka.


We took a flight to the Ukrainian city of Odessa on the Black Sea. There we toured a pre-press factory known for platemakers and cameras. There was really nothing of relevance but we consumed a lot of Vodka during a lunch put on for us.

That evening Mr. Ptashkin, our host, insisted we take in an opera at the famous Odessa opera. Moments after taking our seats, Frank quickly nodded off. Afterward, we walked down to the water on the famous Potemkin Stairs. These sacred steps were constructed in the 1800's and unique because from the top looking down you don't see any stairs only landings. But, on this night somehow Frank and Ptashkin got into a bet of who could get to the top first. Frank did.

So, it's now after midnight and time to head to the hotel. "Let's go for a nightcap", says Frank. "There are no night bars in Odessa", uttered Mr. Ptashkin in a stern voice. "Follow me", said Frank. Around the back of the hotel, down some steps, knock on a door, and voila- a night bar and with western liquor to boot. That was Frank, who was somehow a step or two ahead of everyone. Well, we left Frank at the bar, and that's the last I saw of him that night. I was worried in the morning when he didn't show. I got dressed and made my way down to the foyer to await our hosts. I was just about to explain Frank's absence to Ptashkin when Frank strolled in looking haggard. Best we leave the rest of that story alone.
Top - Frank examining a platemaker at the Odessa factory.

Middle - Frank and Nick at a meeting

Bottom - At the harbor - from left to right - Interpreter, Frank Herrington, another Interpreter, and Mr. Ptashkin

Once back in Moscow, another outing was arranged to visit a major factory in the city of Rybinsk. This city was near a giant reservoir and about 300 kilometers north of Moscow. To get there, we had to take the train and also get special permits. The trip involved leaving Moscow in the evening to arrive in the morning. Neither of us actually knew where we were going, and looking back it seems nuts to take such a long time to go 300 kilometers. We shared a bunk bed cabin with the female interpreter, and Mr. Ptashkin, separated from the proletariat who had less than stellar accommodations. It seemed every time we awoke coincided with the train stopping, changing direction or in one case stifling smoke in the cabin. Someone had closed a vent for a coal fired massive tea urn at the rear of the car.

The factory was huge. It still exists today. Back then, it also had its own iron foundry. This facility made a wide range of printing equipment from web to sheetfed. A little cold set web press called the POG-60 was actually made under a licence agreement with West Germany's MAN and was created to be portable. There were three units and a folder - two colors one side and one on the back in a tabloid size. We found this little press amusing because although the Soviet Union had several dailies, we never saw anyone reading them – only reading official posted copies of a broadsheet on designated notice boards.





Very large offset and letterpress newspaper webs – all for coldset newspaper production - were being assembled. One item of interest was a sheetfed feeder by the name of TIPO. As we later discovered, the TIPO was a Planeta design and the Soviets were now building all the feeders that were to be used on these East German presses. Oddly enough, the Soviets failed to use this feeder for their own presses. We were able to view the VOLGA offset press. In a 40-inch size, the VOLGA featured chain transfer from each unit. Another dud! We walked past at a brisk pace.

But, we did have another troubling experience the next day. There was a special apartment in a workers apartment complex. This was reserved for foreign guests. We had a few hours to kill and both of us had brought gum and candies to pass out as gifts. Looking out of the window I noticed some children playing in the late afternoon. So, we grabbed our goodies and cameras and went downstairs to hand out the treats. All the kids were excited and we enjoyed making their afternoon.

The next day, the Rybinsk general director invited us to a special workers camp on the banks of the lake. Surrounded by woods, this camp consisted of a large house, sauna and outdoor showers. They laid on a feast along with the customary quantities of vodka and toasts, followed by an obligatory visit to the sauna. A car arrived for us around dusk and we headed back through the woods towards the main road. However, as we cleared the thick trees, two black Moskvitch cars blocked our path. Frank and I were ordered to stay in our car while Ptashkin got out to talk to a bunch of guys wearing three quarter length leather trench coats. Moments later, a stern looking Ptashkin came back and told us we had been observed taking photographs in a prohibited place the previous day and the "police" insisted that I hand over my camera and film. At first, I refused but Frank, clearly knew more than I, told me to shut up and give the KGB the damn film. I reluctantly agreed. The KGB developed my film and kept the ones they felt would cause harm to national security.
The visit by the Howard Graphic Equipment delegation was featured in the Techmashexport magazine.


Funny enough, 14 years later, I again found myself at the same factory. By this time, the Soviet Union had collapsed and things had changed a great deal. In the huge machine hall, once occupying all types of machine tools and the printing presses were gone, and in their place workers were punching out pots and pans. Central planning and subsidies exposed a crumbling infrastructure.

The USSR trip gave us a lot to laugh about for years after, but the trip ultimately proved to be disappointing. What was very apparent to us was a stubbornness of the Soviets not embracing developments from the outside world. As we later discovere,d all high quality printing was not printed in Moscow but in places such as Finland, Austria and Hungary. But, that's possibly because Print was not a defense industry and languished because of its apparent unimportance. Odd still considering the Soviet Union – at that time, was the world's largest producer of books.

I continued to learn many lessons from Frank – both in and out of the printing world. I really miss my good friend in so many ways, and I'm not alone. Frank touched a lot of people's lives and left an indelible mark on all who knew him. We don't have many in our print industry like Frank anymore. Guys that were strippers, pressman, mechanics and electricians all rolled into one.

I once asked Frank why he had so little respect for authority when in his early days he had been in the Air Force, trained to use secretive radar equipment. His answer: After all the training and being sworn to secrecy, a few years later, while walking downtown, he happened to find one of those "top secret" Radar units in a government surplus store and for sale.

In the fall of 2003, my dear friend passed away much too soon. But, he left an indelible mark and many great memories. The 1980 U.S.S.R trip being one of the most memorable.